Chris helping out on the roof
Firstly sorry- several people have nudged me for an update, so here it is!
So, yes, finally we have finished balancing on battens and sliding on slates- the roof is officially finished! Hurrah! A mention here for Chris, who was a star, and Bart and Alix all of whom helped with the last bits of the roof. Thanks guys!
The process, predictably, was slowed by the hips and the valleys, but without any real difficulties.
Leading the valleys was interesting- what weird stuff lead is! It weighs so much yet is flexible and you can cut it with a knife. I was given some expert advice on this process. Because lead expands and contracts with temperature, if it is laid in long lengths it would buckle. I was told to cut it into no more than 1.5m lengths and then secure only on the top third, so just 6 copper nails. I hammered each length into the valley recess with a wooden block, and folded the edges back on themselves to add an extra lip, which covers the nail heads and is another barrier for water.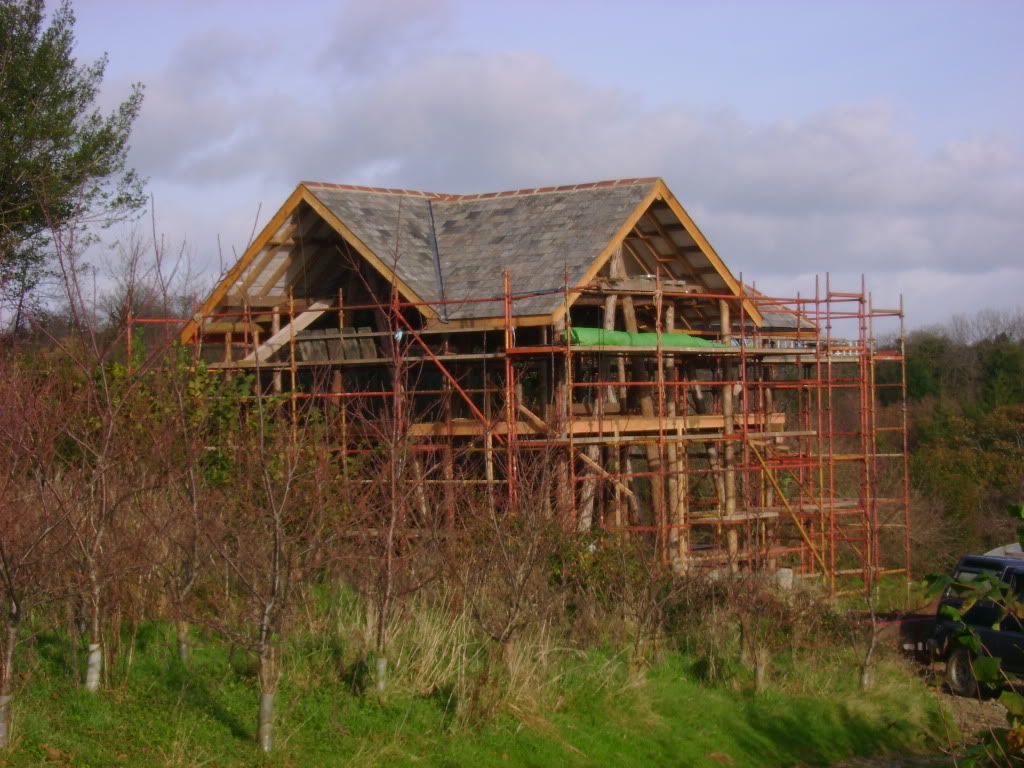 The last of the roof process was to mortar the ridge and hip tiles on- this was another balancing act, though this time on a roof ladder and the ridge itself- not the most comfortable place to work!
I am really pleased with the end result- I think it looks stunning and in keeping with the older of the local buildings. Time for a 'photo methinks....!
John and Sue helping with studwork
We had a visit from Ele's parents last week who have been such a constant support throughout. Despite the rain they managed to add the first lengths of studwork and only broke one tool!
My task now is to extend the upper floor joists to accommodate the straw walls so they will be built in two sections, upper and lower- a modification after discussions with Friederike who is to do the baling course in the spring.
Beyond that it is building the outer studwork, or buck frame. This will take the cladding and provide a structure for the windows and doors.
I am just in the process of writing another background post on the design process- keep an eye out for that over the next week or so....
Cheers for now, Anthony