Well, Beth and Oz have returned to sunny Manchester, Duncan back to Bristol, and Bex and Dan are done now until the baling next year. So that leaves..... me!
I would like to take the opportunity to thank all of you guys and indeed everyone who has been involved in whatever way thus far- it's been a fantastic journey and your time and enthusiasm, help and smiles have been part of what has made it special.
Thanks must go particularly to Beth for the blog setting up and frequent updates- I'll try and be as eloquent and humorous!
Well, 6 months in and we finally have what can now be called a shelter!
Yes, after much head scratching and on occasion I have to admit the odd bit of swearing, we have a roof! Well, a covered space anyway- the breather membrane and battens (which hold the membrane down and are the fixing points for the slates) are finally on. This has been a long time coming. We have all been surprised at just how complex hip and valley rafters are to set, especially when you interact sawn timber with roundwood poles.
Roof membrane and battens almost finished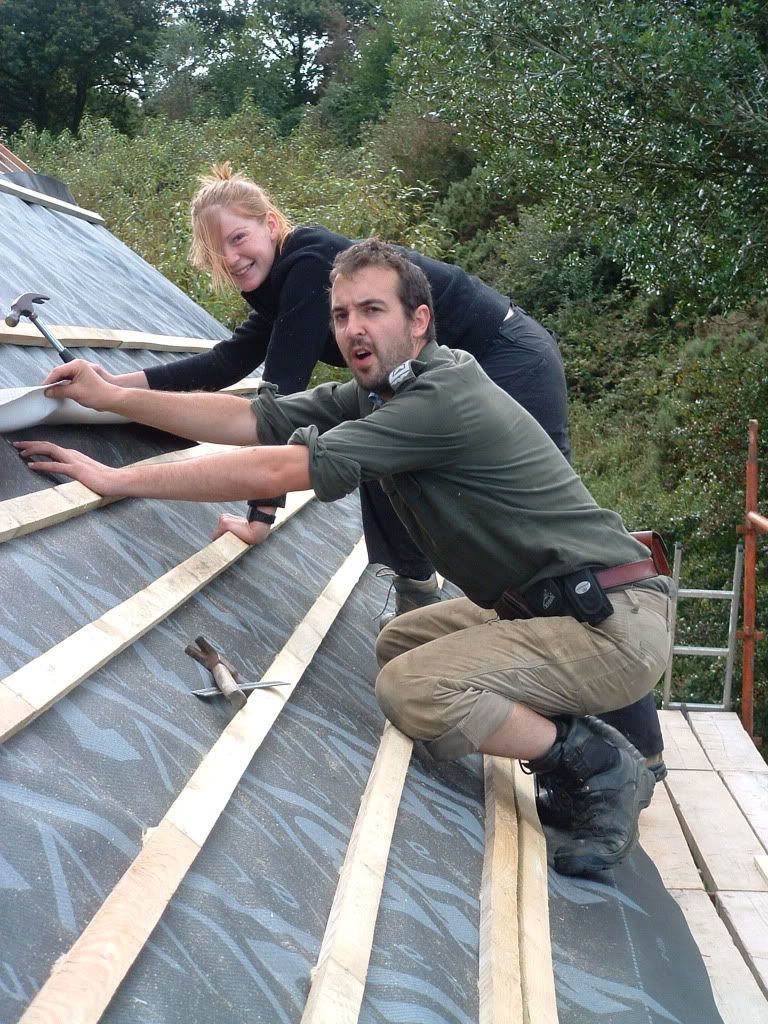 Rob and Clare fixing battens
The next task is to slate the roof! Another process for which I have no reference so apologies to everyone I know who's got any vague experience with roofing for the many questions. With all the advice and much observation of local slate roofs, I'm now confident to tackle it!
Bales and render
The decision to delay the baling process has meant that we have had time to organise both the baling and the subsequent render as two courses in the spring next year. Anyone interested in coming along please contact us. As soon as we have confirmed dates and prices I will let you all know.
Regards
Anthony